Page All: Viewing All Pages
Page 1
Introduction
Thermaltake released the first version of the BlacX a few years ago. We actually
»reviewed the unit
back in August of 2008.
Thermaltake
was the first manufacture to market a USB enclosure as a hot swappable media platform. It made people think and want to use traditional hard drives as the backup media instead of something like tape or optical. With a hard drive, you have enough storage to backup the entire disk at once. Optical is nowhere close to that and tape is a pain. Thermaltake is upping the ante with the
BlacX Duet
which adds a second drive connection and eSATA to the original BlacX. Let's move on with the review.
About Thermaltake
Quote

We live in a world where most things seem to move at the speed of light. At Thermaltake, we feel the same way and that is exactly how Thermaltake conducts itself to deliver innovative, reliable and customer-centric solutions to the worldwide market.

Since the beginning of Thermaltake in 1999, it has been at the forefront of creating new and exciting products at a time where most computer users were provided little to no choices for components that may seem irrelevant, but in reality crucial to the performance of a PC.

Thermaltake Server Series solutions, with years of thermal experience and industry leadership, sets its goal on reforming total thermal management in server segment by formulating the perfect mixture of versatility, efficiency and thermal management with each respective server product category: Rackmount Chassis, Server Fixed & Redundant Power Supply and Server CPU Cooling Management Solutions.

With its comprehensive line of products available, it enables Thermaltake's core customers to enjoy a one-stop-shop experience, reduce product design-in evaluation period and most important of all, flawless integration process. Each of Thermaltake's strengths enables its customer to focus on their core business while taking advantage of the skills and efficiency of a single thermal management solution partner.

http://www.thermaltakeusa.com/About.aspx
Packaging
Thermaltake packages their products in a distinct black with orange accents. Other colors are used to grab your attention on the store shelf and the retail box has enough information to make an informed purchase.
Specifications
Read & Write 2 Hard Drives simultaneously
Supports All 2.5" & 3.5" SATA Hard Drives up to 2TB (per slot)
Hot-Swap Capability for Rapid Multi HDDs Access & Exchange
When utilizing eSATA interface, Port Multiplier feature is required on the host system's eSATA controller for two hard disk drives to be seen at the same time. All USB supports Port Multiplier function.
Supports eSATA Transfer Speed up to 3.0 Gbps
Supports USB 2.0 Transfer Speed up to 480 Mbps
Windows & Mac OS Compatible (Linux as well)
Rapid Data Access & Exchange w/ Single eSATA or USB Cable Connection
Open docking station design maximizes heat dissipation
RoHS Compliance
SSG (Solid State Grip) Technology: Anti-Slippery Grasp Base
3 Year Warranty
Page 2
Package Contents
In addition to the BlacX Duet and literature, Thermaltake adds eSATA and USB2 cables as well as the AC adapter for the unit. The cord on the AC adapter is about six feet which is fine. The older model had a short AC adapter cord. As you can see, the color black is heavily used for this product.
BlacX Duet
While the unit accepts two hard drives at once, the physical size isn't too much to be a bother on a desktop. The space used is just a bit bigger than the original BlacX. The front of the unit contains the BlacX Duet logo while the top has the Thermaltake logo. The left-top-front contains the dual blue hard drive indicator lights which also functions as a physical hardware switch for powering the unit.
The right-top-side of the unit contains the hard drive release buttons. Each drive you insert will be locked (to a point) in place and these releases allow you to pull the drive out with ease. Remember that this unit is hot swappable. All Serial ATA drives are hot swappable, though. This controller supports it as well, which is a plus.
The back of the unit contains the power and data connectivity ports. There are three plugs. One for USB2, one for eSATA, and one for the AC adapter. As was said, the hardware power button is built into the top of the unit where the activity LEDs are located.
While the unit was designed in California, it was made in China. The label also listed the various industry and government labeling. The bottom contains four rubber feet for gripping and they provide a nice and firm grip.
We are showing two SSDs mounted into the unit. The BlacX Duet accepts 3.5" and 2.5" drives. You can mix and match them as well.
Page 3
Use
Please watch our video review to see how the product actually works in use. Our own Editor-in-Chief is doing the video for your viewing pleasure. What you should take away from this is that since the unit supports eSATA, the controller won't be the bottleneck in your data transfer path. If you are using USB2, you should expect your data transfers to be limited to the bandwidth of USB2.
The controller doesn't add any real slowness to the transfer speed of the hard drives. You'll see the full speed if you have eSATA on your computer. Don't expect that both drives working at the same time will be able to push the maximum data transfer, though. Also, if your computer doesn't support port multiplied eSATA, you'll only see a single drive using the eSATA connection. USB2 doesn't have this limitation. These are things to think about, but most computers will have no problem using the unit to the fullest on eSATA. The BlacX Duet performs well and gets the job done.
Conclusion
The Thermaltake BlacX is retailing for about $45 (
Newegg
,
Amazon
) at the time of posting. This might be more expensive than competing models, but we feel that the overall construction and the quality of the unit speaks for itself. There is some novelty in this product, though. If you don't need to have two hard drives connected at once, this unit is overkill for your needs. Thermaltake makes a single drive unit that is a bit less expensive.
If you are the type that will use a dual drive dock, this is the product for you. External Serial ATA connectivity allows the transfer speed to remain as fast as the drive can handle and this type of product makes very large backups very easy. Imagine having to backup 300GB of files on some type of removable media. The hard drive is the removable media!
Thermaltake
pioneered the concept and it still carries on today. The BlacX Duet is a great product if you want to connect two drives to your computer at once. If you need it, we recommend it.
»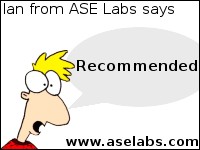 ASE Labs would like to thank
Thermaltake
for making this review possible.