Page 2: Testing methodology, Benchmarks
<B>Testing Methodology</B>:
Since this is the first video card review I'm doing (a real review), I'll use this as the stepping stone, the starting point for the rest. I tried to choose benchmarks and games that would accurately show how a graphics card would perform. I would really like feedback on my approaches, please send me some email or post in the forums.
Testing took about 14 hours and over 150 tests were done. I have more tests than what I am showing in this review. The ones I am leaving out show the exact same thing as these though (Some subsystem graphics benches). We have a bunch of benchmarks and game tests. So read on. Remember, each benchmark was done three times and then averaged.
<B>Test System</B>:
For video card reviews I'll be using the fastest system I have. I also tested the card in a slower system to see if it would be a worthy upgrade for an older card. This card has 256MB of memory on it.
P4 2.4C @ 3.0 Ghz (250 Mhz FSB x 4) PCI and AGP are locked at 33mhz and 66mhz.
Abit IS7-E (The E means cheap!)
512MB Crucial PC 3200 Dual Channel
WD 80GB 8MB.
DVD and CDRW
Win2k SP4
DET 44.03 and CATs v3.5 for nVidia or ATI cards
Latest Intel INF drivers
<B>Benchmarks (No AA and AF)</B>:
For ALL benchmarks, the grey denotes a Radeon 9500 Pro and the Red denotes the Leadtek A310. Most benchmarks show 1024x768, 1280x1024, 1600x1200.
<center>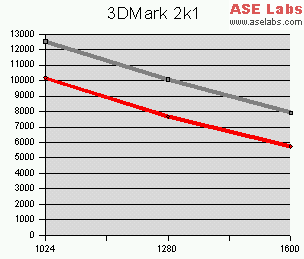 </center>
First up is 3Dmark 2001SE. As we can see, the 5600 core cannot stand up to the power of the Radeon 9500 Pro. There are 4 less pixel pipelines in the 5600. 3Dmark 2k1 is a DirectX 8 benchmark, and it gives a good measure for today's games.
<center>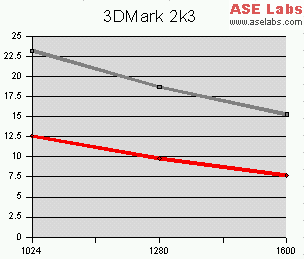 </center>
Mother Nature is 3Dmark 2003's only DirectX 9 game test, so we'll use it to see how the cards performs in a dx9 setting. Can you see the trend starting?
<center>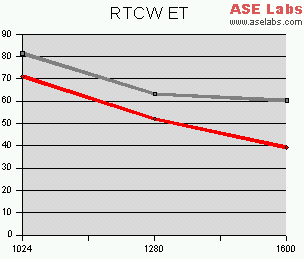 </center>
RTCW Enemy Territory is a free game that looks pretty damn nice for free. I made up my own ASE Labs demo for this game and here is how the cards come out. The Radeon's curve goes a bit weird at 1600x1200, but the benchmarks were all run three times and then averaged.
<center>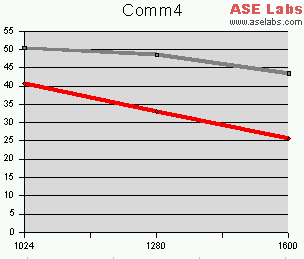 </center>
Commanche 4 benchmark is a DirectX game test. This benchmark still shows that the 5600 is no match for the Radeon 9500 Pro.
<center>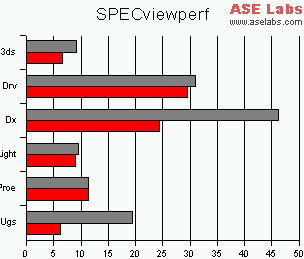 </center>
Spec is an OpenGL benchmark that is based on professional suites. Most people won't bother looking at these tests, but it is a benchmark that I like to use regardless.
<B>Benchmarks AA and AF</B>:
The following benchmarks were run at 4x AA and 16x AF (8x on the A310).
<center>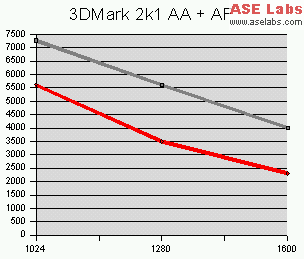 </center>
Still the Radeon 9500 Pro leads.
<center>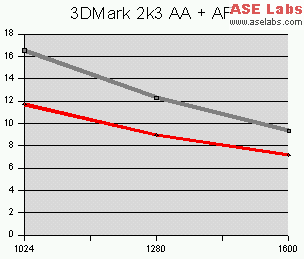 </center>
The same.
<center>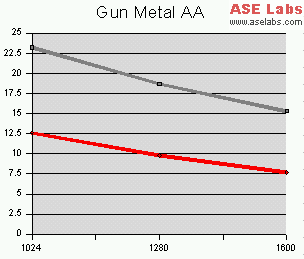 </center>
This benchmark is from the game that comes with the card itself, the game looks pretty awesome. It is a DirectX 9 game, and I wasn't using AF on this one.
<center>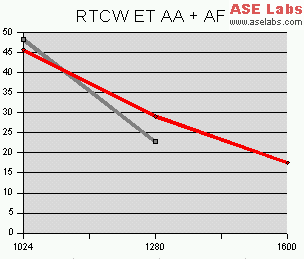 </center>
For AA and AF, the Radeon 9500 Pro's results at 1600x1200 were not real and I threw them out (they were higher than 1280x1024 marks at no AA and AF). We can see in this real game that the FX likes a lot of stress. it pulls ahead at the higher resolution.
<center>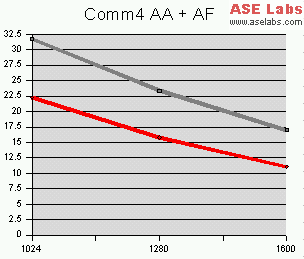 </center>
And back to the Radeon winning.
The card did well on my slower Athlon 1.53Ghz machine, it would be a good upgrade for that type of machine. It pulled only about 8150 3Dmarks (2001SE), but in RCTW ET it was doing around 52 FPS. Both were run at 1024x768 with no AA and AF. If you already have a DirectX 8 or 9 card on a slower machine, it doesn't make sense to upgrade. But if you have a lower generation card, this might be good for awhile.