Page 2: Use, Conclusion
Use
ASE Labs by far recommends the hard plastic surface type pads as they provide the best performance with the least amount of friction. A hard surface also means the pad is thinner and allows your skin to glide more easily than cloth. Puretrak's two hard plastic surface mousepads are excellent; providing great tracking and easy movement with very little friction. The cloth pads offered slower movements due to the higher friction, but whether this is detrimental comes down to personal preference.
Conclusion
Puretrak
makes mousepads that anyone can like. ASE Labs has no problem recommending the
Classic or Deluxe
at the price point of $10 and $15 respectively. If cloth pads are your thing, you can pick up the Stealth for $20 or the Talent/Complexity for $25. We have seen professional mouse pads cost a great deal of money and it is excellent to see a company like Puretrak coming out with quality products at a price point that everyone can afford. For that reason, we think Puretrak is a company that will go far with power users and gamers. And with products and price points like this, why don't you own a good mouse pad?
»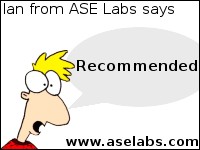 Recommended: The Classic and Deluxe models from Puretrak.
ASE Labs would like to thank
Puretrak
for making this review possible.