Page All: Viewing All Pages
Page 1
Intro
While hard drive makers are scrambling to gain new technologies for the coming transition to all SSDs, memory makers are taking the move in stride as it is their technology that is driving the market. For manufacturers such as
Kingston
, SSDs give another market for their primary product of memory chips. Since a solid state dish is just a mashing of specific flash and a controller, it makes sense that these companies have embraced the new market. Kingston has previously re-branded the excellent Intel X series SSDs for their line up, but recently added their in house manufactured V Series. The V means value, and that's what you are getting with the Kingston
SSDNow V Series 128GB
drive.
Kingston's Approach
While many companies have jumped on the SSD bandwagon and released some really bad SSDs based on a controller that was awful for performance (JMicron), Kingston selected to partner with Intel initially to provide the top of the line drives. Months of testing and validation had to pass before the controllers were stable and had good performance before Kingston would approach making their own line of drives. Once the stability of the controller was there, Kingston finally designed their own line of drives in the form of the V Series. It is an MLC drive and targets the value segment of the market. It should be competitive with traditional hard drives and good for people that don't need the ultra high capacity that traditional magnetic drives currently reign supreme on.
Box
Kingston packages the SSDNow V Series in a black box with a few different color accents. The retail kit that was sent is the desktop kit. There are two other versions (a notebook kit and a bare drive).
Parts
For the desktop kit, Kingston packs in a bootable CD with Acronis cloning software so you can easily clone your old drive onto the brand new shiny SSD. The notebook kit offers a USB hard drive kit to put your old drive in (smart thinking).
The kit also provides 2.5"-3.5" mounting brackets as well as the cabling. The mounting bracket is a very nice addition considering most cases still don't offer 2.5" drive bays.
Specs
Features:
Fast -- up to 100MB/sec. read; 80MB/sec. write
Performance -- enhances productivity; makes users more efficient
Innovative -- 2.5" form factor; uses NAND flash memory components.
Silent -- Runs silent and cool with no moving mechanical parts
Reliable -- less likely to fail than a standard hard drive
Shock Resistant -- No moving mechanical parts so the SSD handles rougher conditions.
Supports S.M.A.R.T. -- Self-Monitoring, Analysis and Reporting Technology tells the user when a drive is about to fail
Guaranteed -- 3 year legendary Kingston warranty, 24/7 tech support
Specification:
Capacity* -- 64GB, 128GB
Storage Temperatures -- -40° C to 85° C
Operating temperatures -- 0° C to 70° C
Vibration Operating -- 2.17 G (7--800Hz)
Vibration Non-Operation -- 20 G (20--2000Hz)
Power Specs --128GB Active: 2.5W (TYP) Sleep: 0.45W (TYP)
Life expectancy -- 1 million hours mean time before failure
Page 2
SSDNow V Series
The initial crop of SSDs that hit the market way back were riddled with problems caused by a bad controller. The issue was made worse since everyone was using the same controller on all of their own drives! It was well worth sitting out of the market for some time until the dust settled and the issues were worked out, so Kingston's wait should prove to be a plus for consumers purchasing this drive.
This drive is rated for 100MB/sec reading and 80MB/writing. This is probably a limitation of the controller to save some cost and to stabilize the performance. The drive uses NAND flash memory and is a MLC based drive. Kits for the V Series come in 64GB and 128GB variants and the subject of this review is the 128GB one. While Kingston doesn't provide metrics for access time, it should be much faster than 1ms based on the performance of other SSDs. One area were SSDs really shine is random reads. Combining a fast access time with a very good reading throughput means that those stutters upon using your computer will be minimized. When purchasing a SSD, don't just think of raw performance as the only metric. It is how you use your computer daily this is the most important factor. SSDs really shine when put through daily use.
The V Series supports SMART monitoring and comes with a three year warranty. The MTBF (Mean Time Before Failure) is listed as 1 million hours, but there is no data on how much writes per day (or hour) this is doing. With a three year warranty, Kingston is saying that the drive should be able to last AT LEAST three years and probably much longer. Warranties are all about how well designed and reliable the product is. If the product is good in those two areas, companies will provide longer warranties; and in the age of single year warranties, three years is good. Five would be better, but since this is a new product, it is understandable that the length of time is a factor.
Cracking the drive open and seeing the internals is a good part of any review of this nature. Kingston selected to use Toshiba chips and a Toshiba controller in this SSD. There are a total of 16 memory chips indicating that each chip is 8GB. Flash is really getting into the high density market.
The controller is a Toshiba TC58NCF602GAT. Even though this says Toshiba on it, it is actually a JMicron JMF602 controller. Fortunately, Kingston has worked with these companies to work out the bugs for months.
Use
While the majority of reviews focus on the hard benchmarks to find out the value of a product, there is more to value than just that. This drive has been in use for the past two months, and it is a dream to use over a magnetic drive. The lack of stuttering along with the very speedy random read times makes this drive very useful as the primary storage device. It is 128GB which is large enough for most people, and it is fairly easy to supplement the drive with an additional magnetic based storage drive for the high capacity needs for some users. Kingston has done a good job bringing their first in-house designed SSD to market.
Page 3
Testing
We ran the Kingston SSDNow V Series through the benchmarks a few times during different periods to make sure the drive was fully used. After a month of use, the benchmarks only slightly degraded and these will be the ones we will be showing. We are adding a Seagate 1TB 7200.11 drive in comparison to see what a mainstream magnetic drive has to offer. A base install of Ubuntu 9.04 x86_64 was used for the operating system.
Test Setup:
Asus P6T Deluxe
Intel Core i7 920
»6GB Crucial Ballistix Tracer Red
»Sapphire Radeon 4850
Ubuntu 9.04 x86_64
Phoronix Test Suite 2.0
A fully partitioned drive has about 119GB of usable space. This is pretty much in line with what happens with magnetic drives (due to their non binary numbering). And yes, the swap partition is placed in an extended partition.
Drive Performance (Higher is better)
PostgreSQL pgbench8.4.0 TPS
IOzone3.323 8GB Write MB/s
IOzone3.323 8GB Read MB/s
Dbench4.0 12 Clients MB/s
Dbench4.0 128 Clients MB/s
Aside from one test, these benchmarks show a mixed bag. For the most part, the SSD is faster on reads (highly on random ones), but slower on writes. In the last benchmark, the SSD gets beaten severely. This might be due to the lack of cache or the redesigned controller, and it seems that it just can't handle the load in that situation. Will this present itself in normal use? Probably not, as that benchmark is more relevant to server-type computers, but it is interesting to see.
Conclusion
Kingston
's first in-house designed SSD, the
SSDNow V Series
, is a very good comprise between speed and price. Even though Kingston took a long time to bring a SSD to market, the wait was better for consumers that will purchase this drive. The controller is mature enough and the performance is good, but because the drive is targeted at the value segment, don't expect this drive to run circles around magnetic drives in production right now.
The drive does have its strong points including the high speed, low latency random reads. Most disk access in a traditional home computer use situation would be random reads and this is where the Kingston SSDNow really comes into focus for the market. Replacing this drive for the OS and programs alone will bring a modest speed increase for your computing experience. That's the goal with this product. It isn't made to supplant magnetic storage just yet.
The drive currently
»retails for $240
. For a SSD with 128GB of storage, this is a very good deal. Kingston has done a great job bringing a value product to market and even though other players have had their products on the market for longer, a well designed product that works off the bat says something about the company. Nice job, Kingston.
»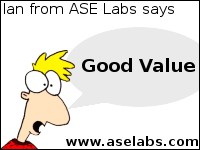 ASE Labs would like to thank
Kingston
for making this review possible.