Page All: Viewing All Pages
Page 1
Introduction
Cloud storage is all the rage these days. You can't go that far and find someone saying how great it is to put everything in the cloud. While there are benefits to having your entire life stored on some random server, you still need a way to get that content saved immediately upon creation before you get to that special cloud. With the increasing use of video, local storage needs a big boost.
Kingston
steps up with a
128GB SDXC
card. Yes, 128GB. It is a class 10 card that's capable of shooting 1080p video and ready to boost your local storage for video cameras and DSLRs alike.
About Kingston
Quote

In 1987, Kingston entered the market with a single product. Founders John Tu and David Sun fulfilled a severe shortage of surface mount memory chips with a memory module that would serve to redefine industry standards for years to come.

Combining one of the most extensive and stringent testing processes in the memory industry, an exceptional free tech support center and a consistent roll-out of innovative technologies, Kingston Technology has continually set industry standards of quality and reliability throughout its history.

Reliability is the cornerstone of the Kingston product strategy. It has played a key role in maintaining the long-term relationships developed over the years with customers. Kingston remains committed to exceeding industry standards with every new development while maintaining the signature reliability of its products.

http://www.kingston.com/us/company
Packaging

Kingston's red mascot is clearly visible on the retail packaging. This is a standard SDXC card, so there are no frills here. SDXC is the third generation Secure Digital format of card. It is pin compatible with all previous generation of cards, but not backwards compatible. You'll need a SDXC capable device to read and write to this. If you do have a SDXC capable device, it will work with all previous generation cards, though.

The back has some information and a nice picture on how to use the card. You plug it in.
Page 2
Specifications
Capacity: 128GB
Speed: Class 10: 10MB/s minimum data transfer rate
Compatible: SDXC cards are not compatible with SDHC-enabled devices/readers
Secure: built-in write-protect switch prevents accidental data loss
File Format: exFAT
Compliant: with the SD Card Association specification
Reliable: lifetime warranty
Dimensions: 0.94" x 1.26" x 0.08" (24mm X 32mm X 2.1mm)
Storage Temperature: -40º F to 185º F (-40º C to 85º C)
Operating Temperature: -13º F to 185º F (-25º C to 85º C)
Voltage: 3.3v
Marketing Summary
Quote

SDHC/SDXC Card - Class 10

Use: High-capacity photo and HD video

On a scale of usefulness and value, Kingston's SDHC and SDXC Class 10 memory cards rate a 10. Designed to meet the increasing storage demands of smartphones, tablets and high-quality still and video cameras, these cards use speed class ratings to deliver a minimum data transfer rate of 10MB/s for optimum performance with SDHC/SDXC devices.

http://www.kingston.com/us/flash/sd_cards#sd10v
Parts

There is one part, the SDX10V/128GB card. Surprisingly, Kingston didn't include a case for this card, but most people will never use one after popping it into a device.
SDX10V/128GB

There is very little to be said about the look of this product since it is a standard SDXC card. What it very interesting is that it is 128GB. Think about that. You have so much data in a easy to transport package. Remember the floppy disk? 1.44MB. What a long way we have come in such a short time.
And it is a good thing, too. Data keeps marching forward. Gone are the days when you only needed a small amount of storage on the go. These days are filled with video shooting, high resolution RAW images, and countless other data intensive activities. All of these demand lots of storage and that's why single, high capacity, cards are so important. You don't want to be juggling multiple cards around.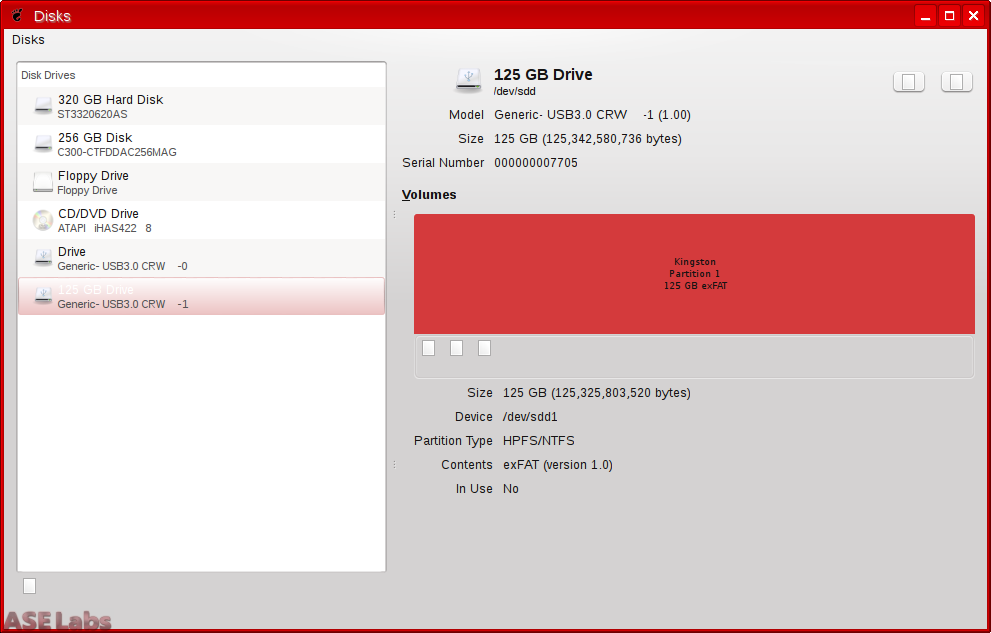 The SDXC standard defines the use of exFAT on cards. This is rather strange since Microsoft controls that and isn't an open standard. Having a standard be based on a single company owning and licensing the use of a critical part makes no sense. While you can format the card however you like, SDXC devices will require the use of exFAT (or another filesystem if the device is "smart" enough).
Page 3
Testing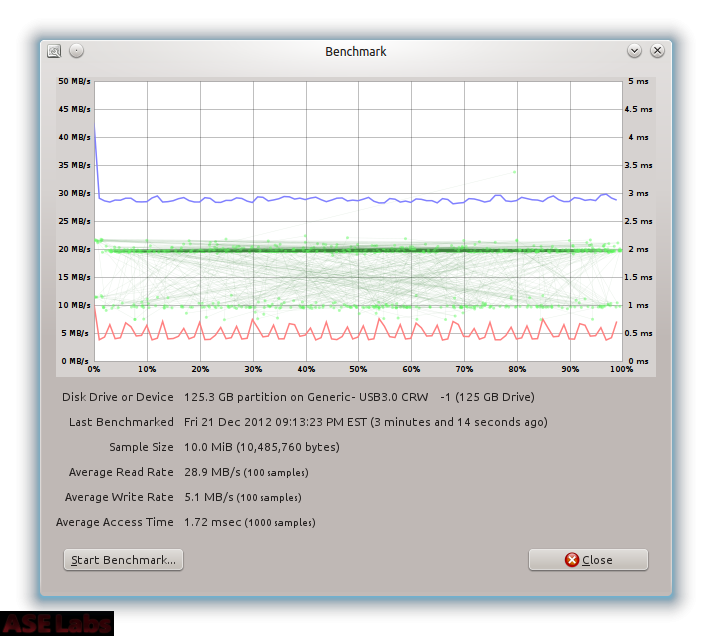 We like to run all storage devices through Gnome's disk utility program (where are you with benchmarking, KDE?). The latest version allows you to pick the test sample size and runs. This first sample is running at 10MB chunks for 100 samples. This is considered a random write and random read sort of situation. The card is meant to sustain 10MB/s writes, but not in chunks. You can see that the write rate falls to 5.1MB/s in this situation. Since the card is not designed to do this situation, it is acceptable. It isn't good, though. If you're using this as a general storage transport and have lots of small files, be prepared to wait.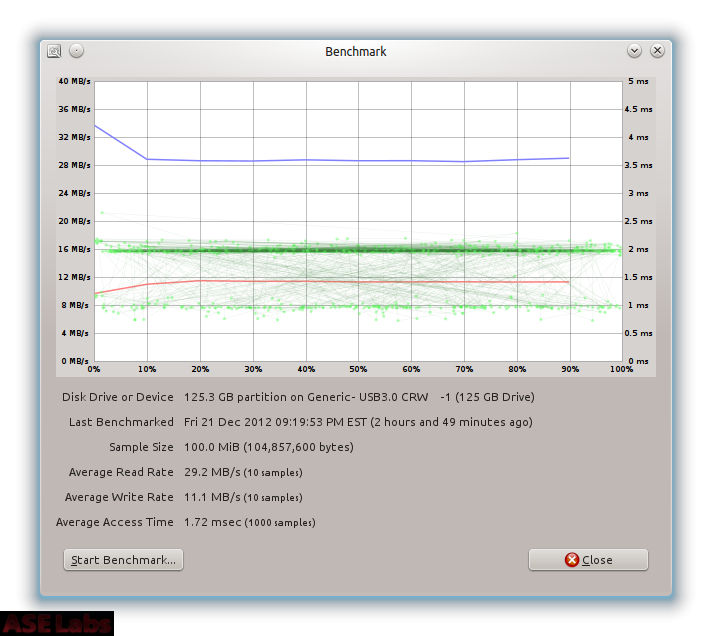 This test shows 10 samples at 100MB each and the transfer rate improved to 11.1MB/s. This is where a class 10 card should be. Read rates hovered around 30MB/s, which is fine.
On our bulk transfer tests, we found the card top out at around 13MB/s on writes and 35MB/s on reads. This is with a
»Kingston Mobilelite G3 USB3 card reader
on a brand new Asus P8Z77-V Pro Thunderbolt board, so there was no issue of bottlenecks. At this early stage of large capacity cards, you are sacrificing speed for the capacity. The trade off is worth it, though. Think about not having to carry around multiple cards and remembering to take them with you.
Something to think about, at 35MB/s on reads, expect to wait around an hour to transfer a filled up capacity card. You might want to grab a sandwich!
Conclusion
The Kingston
SDX10V/128GB
retails for about $100 with shipping. $100 for a SDXC 128GB card! That's impressive considering a few of years ago you'd pay $100 for a 8GB card. With the market having plenty of devices supporting SDXC, there is no reason to think about this purchase. If you are recording HD video or very high resolution RAW images, you'll want what this card offers. High capacity with performance that meets the specification. Just remember to back up your data. Misplacing a 128GB chunk of files probably means a bunch of lost memories!
We wouldn't recommend using this card for general purpose storage unless you are willing to put up with the rather slow transfer rates as opposed to faster cards with lower capacities. Remember, this isn't a SSD or a hard drive. You shouldn't use it as such. For the intended use, it is great and we recommend it for all video and digital camera enthusiasts.
ASE Publishing would like to thank
Kingston
for making this review possible.