Page 2: Testing, Conclusion
Testing:

I've been using the unit for a couple of weeks now and it works great. It is just as easy as the previous Icy Dock product I reviewed. You slide the drive in and that's it. It is hot swappable, so if you are using this for a second drive, you can swap it with no problem. I'm using it as the primary drive and in this situation it works great since I have to swap drives for reviews.
The LCD gives a bunch of useful information such as the temperature inside the enclosure and if the fan is turning and such. You can set warning temperatures that gives an audible alert if it is reached. The hard drive activity indicator works as expected and really, the unit functions exactly how it should. What more could you ask for? Transfer speeds are the same as a normal internal hard drive. It is just a pass-through, after all.
Conclusion:
The
Icy Dock Screwless Internal 3.5" SATA HDD Enclosure
retails for about $50 and it is nearly the same price as the external enclosure from the same company. You have to really weigh your options since getting either product would be good. I happen to like this internal enclosure since I have a good need to swap drives frequently and this type of unit makes it so easy.
If you are in the same situation as I am and switched internal drives often, this unit is a perfect match. It is simple and gets the job done without hassle. What more could you ask for in a product? Oh yes, the price is good as well. Icy Dock seems like a company that produces great products all around and I really enjoy reviewing products that perform exactly as expected. I have no problem giving this my recommendation.
»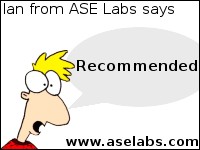 I'd like to thank Jeff from
Icy Dock
for making this review possible.