Page 2: Testing
<B>The Test Setup</B>:
In an ongoing effort to streamline new reviews, I am making a new test system to replace the one I just built. The current test system consists of the following:
3.0GHz Prescott LGA775 (530J)
Intel D915GMH (<a href="articles.php?id=166">BTX</a&gt

512MB Corsair PC3700 (Dual Channel)
Evercase Slim BTX (<a href="articles.php?id=169">POS</a&gt

160GB Western Digital 8MB (SATA)
12x DVD-Rom (Crap)
WinXP SP2 + Hot fixes to date
Nvidia Drivers: 77.72
ATI Drivers: 5.7 No Control Center. (Screw .NET)
The 6600GT OC will be compared to a regular ATI X700 Pro. In each case, the blue bar denotes the 6600GT OC and the gray indicates the X700 Pro.
<B>SPEC 8.1</B>:
SPECviewperf is an OpenGL test suite that gives an overview of workstation performance. It has scripts from a variety of 3D manipulation programs including Maya and 3D Studio Max.
<center>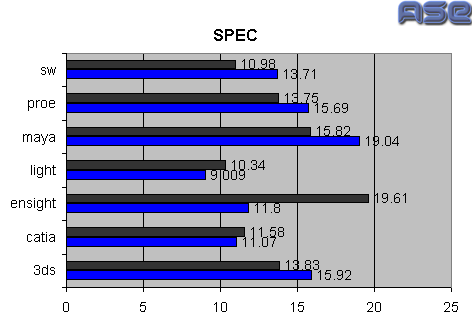 More is better</center>
The 6600GT OC and the x700 Pro both perform good in this workstation test. The x700 Pro wins some and the 6600GT OC wins some. No clear winner here.
<B>Far Cry</B>:
I'm still using the old 1.1 patch for Far Cry. This is an excellent game from Crytek, surpasing Doom3 on nearly everything. This is one of best looking games to date.
<center>No AA or AF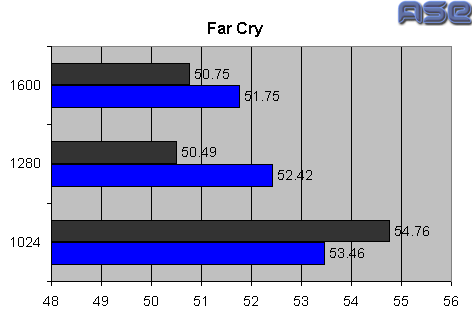 4xAA + 16xAF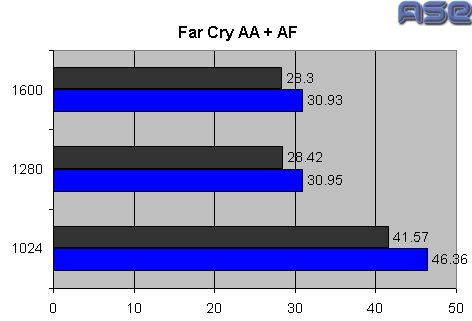 FPS, more is better</center>
I cannot explain why 1600x1200 has higher scores than 1280. I ran this 5 times and the same results came up. Take those with a grain of salt, please. If you can give an explanation on the reason this happens, please send me an email (aron@aselabs.com). The 6600GT OC wins this game over.
<B>UT2004</B>:
One of the first games to actually include voice chat for the PC and done in a great way. I wish more games had voice chat on the PC that is this good in implimentation. The graphics are nice enough as well and the gameplay is very fast.
<center>No AA or AF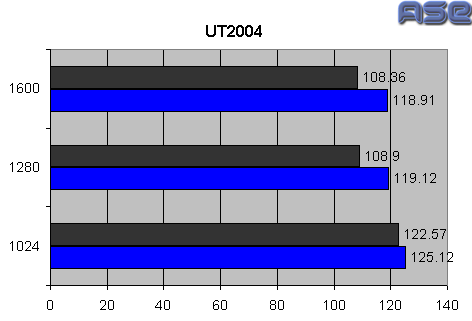 4xAA + 16xAF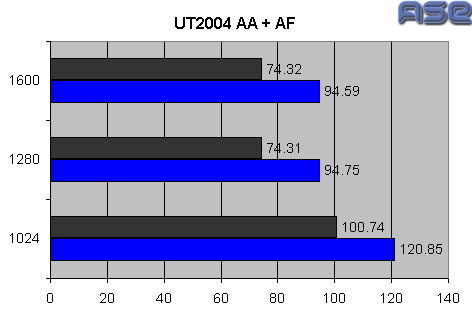 FPS, more is better</center>
The BFG wins this game as well. Once again we see the 1600x1200 weirdness occur.
<B>Halo</B>:
Halo may be one of the best games on the Xbox, but it is sorely lacking on the PC. The game has horrid framerates and doesn't live up to the likes of Halo 2. It also doesn't include voice chat.
<center>No AA or AF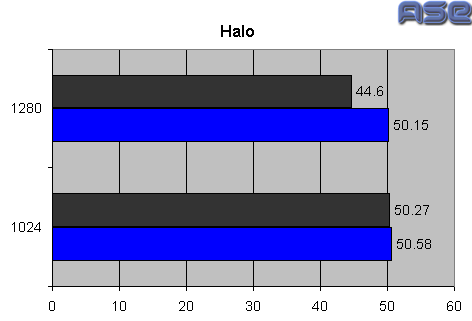 4xAA + 16xAF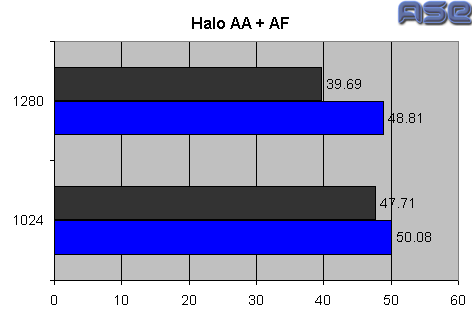 FPS, more is better</center>
1600x1200 failed to work. The BFG wins again.
<B>X2 - The Threat</B>:
This game had so much potential, but it failed to deliver. This is a 4x type game. X3: Reunion is coming out in Q4 and hopefully it will live up to what it should be.
<center>AA and Auto-quality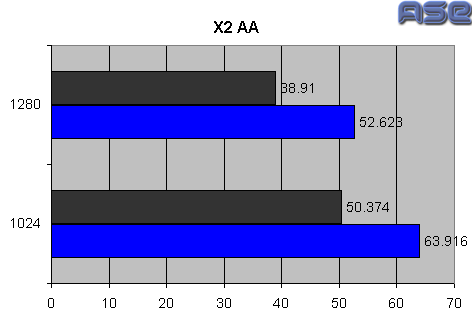 FPS, more is better</center>
X2 in AA looks great. The BFG wins again. The trend shows that the faster card prevails even with less memory.