Page 2: Testing, Conclusion
<B>Testing</B>:
Let me go over some caveats of the testing done on this memory. Since this is the first sample of DDR2 I have, and my resources are limited at this time (I am a college student after all), I will not be going over any overclocking results. I simply do not have the resources at this time to do so. Rest assure, in the near future, I'll be receiving more memory and better DDR2 test beds and when I do, I'll revisit the RAM reviewed here. My apologies to the readers and to Mushkin.
The test setup used was a Pentium 4 550 (3.4GHz). Windows 2000 with SP4 and all the hotfixes. Yes, I still use Win2k. The RAM used was... you know. Radeon X700 Pro 256MB. 300GB Serial ATA Maxtor Hard Drive with 16MB cache! Intel 915PBL. New technology sucks, it is very expensive.
I did decide to mess with the timings a bit to determine how hard I could push the memory at stock MHz and at stock voltage. Needless to say, the memory ran flawlessly at the rated speeds. JEDEC says that 533MHz DDR2 should run at 4-4-4. The SPD said the RAM was rated at 5-4-4-12, which was strange to me. Although it said this, on auto, it was at 4-4-4-12. The board may just be screwing up stuff. Unsure. I pushed the RAM to 3-3-3-8 and it was running nice and stable. Anything lower and it would crash or not POST. The lighter blue on the graph is the faster latencies.
<center>

</center>
Sandra Integer buffered shows the increased speed. The difference between DDR and DDR2 are yet to be seem in terms of raw speed.
<center>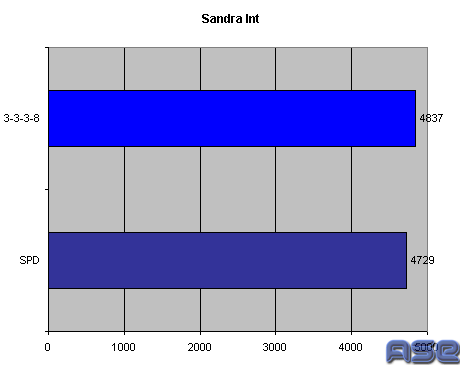 </center>
Same for float.
<center>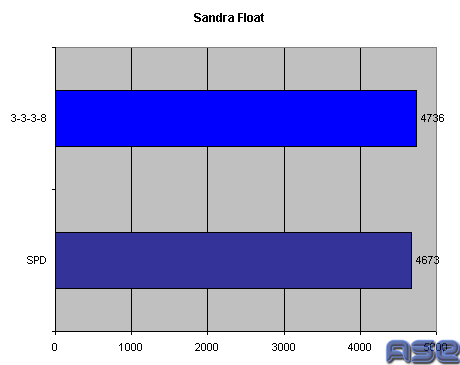 </center>
Everest Read. Everest is the program that takes over from AIDA32.
<center>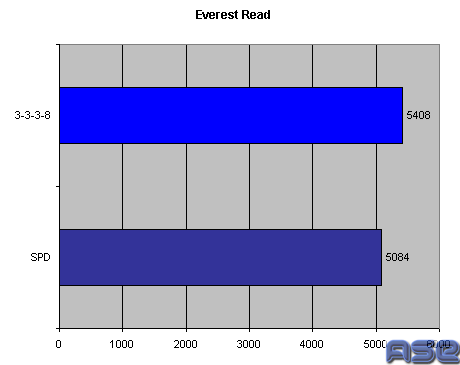 </center>
Same for the writes.
<center>
</center>
Now for latency. You can see the benefit to decreasing the timings for the memory. I believe that DDR2 will get tighter and tighter timings in the coming months, just as normal DDR did.
<B>Conclusion</B>:
Without anything to compare this memory too, I will not give a recommendation based on it alone. I will say that the memory performed perfectly well at the stock timings and at a bit faster than it was rating for. <a href="http://ase.dealtime.com/dt-app/SE/KW-mushkin 533mhz/FD-0/linkin_id-3002062/NS-1/GS.html">The price for this memory is about $350</a>!! This is pretty high for memory, but you are getting quality. I leave it to you to decide whether to purchase this memory or not. It is your money after all.
I'd like to thank <a href="http://www.mushkin.com">Mushkin</a> for providing the first DDR2 modules for review here.