Page 5: Testing Protocol, Ergonomics, Sound, Conclusion
Testing Protocol
Remember that testing sound devices is a very subjective thing. Make sure you read reviews from many different sites to really gauge how something that deals with sound actually is. A sample size of one site is not enough to make an intelligent decision on which product to buy since there is no 'standard' way of testing something like a headset.
Our sound quality testing was done on a Dell XPS M1710 Laptop with an internal Bluetooth module running Windows 7 Professional with the music played through foobar2000 at default equalizer settings. The unit was also tested for compatibility with a Droid Incredible, an LG Chocolate 3 and a CECHAxx PS3; We found no problem connecting to any of the devices.
Ergonomics
For obvious reasons, it is very important to get a set of headphones that fit. Even your favorite songs won't seem worth listening to if the headphones you are using are uncomfortable to wear. With that in mind, the Arctic Sound P311 stands up very well. There is a bit of flex in the band design to allow the headset to fit people with different sized heads, and the low slung way they are worn proved to be quite comfortable. The light weight and partial bracing by the neck kept them from feeling heavy after extended periods of use, though, the way they rest on you neck makes them get in the way somewhat when looking around.
The buttons were easy to tell apart without looking at them which allowed the headset's media functions to be easily run on touch alone. One common complaint against over ear style headphones is that they can be quite uncomfortable to wear for people who wear glasses, but this surprisingly wasn't a problem in our testing of the P311 so long as the glasses were put on after the headset was.
All told, in our testing the design of the P311 headset stood out as being quite practical during extended use with no major ergonomic issues to speak of. The issue caused by looking around seems to be a necessary trade off imposed by balancing some of the weight of the headset on your neck and it wasn't noticeable for the most part.
Sound
Our tests of the P311 headset gave off largely positive impressions in regards to sound quality as well. The unit has good, solid bass, but not to the extent that everything is overwhelmed with it. The P311 also didn't seem to struggle with the highs or become tinny in the upper range as is the case with many similar over ear headphones. Mid-range sounds seemed a tad flat, but for most songs this went unnoticed.
There were two potential problems that were discovered during our testing. The first one was related to sound isolation. While the isolation was generally quite good as far as half-can headphones go, there were times that getting the headset resting comfortably over your ears prevented them from being tight against them, letting outside noises in until they were adjusted. The built in microphone was able to record decent quality samples, and it was capable of working both when the headset was in Stereo mode as well as when it was in Mono mode. It should be acceptable for voice chat, though for cell phone use you might be better served with an earpiece that only covers one ear.
The second problem was related to the Bluetooth itself. When the headset was first set up, there was a noted crackling whenever higher bitrate music was made to playback. This was especially notable with WMA and FLAC files. We discovered this to be a result of the headset sound settings, as it went away entirely when we switched the output settings from 44.1 KHz (CD quality) to 48 KHz (DVD quality). After we adjusted this setting, the only way to real giveaway in regards to audio that this was a Bluetooth headset was a faint pop of static when switching tracks, but we are unsure whether the initial crackling problem was caused by the P311, Windows 7 or foobar2000.
Conclusion
The Arctic Sound P311 Bluetooth headset certainly lives up to the standards set by the rest of the Arctic Sound range. It offers good sound quality, terrific battery life, some nice bonus features and a stylish design that is comfortable enough for extended use; all for an
MSRP of only $38
. With Bluetooth-enabled portable audio players becoming more and more common and external Bluetooth dongles in a price freefall, this headset is the right product at the right time. We at ASE Labs can easily recommend the Arctic Cooling
Arctic Sound P311
Bluetooth Headset.
»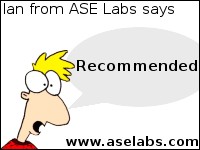 Thanks to
Arctic Cooling
for making this review possible.