Page 2: Interior, Conclusion
<B>The Case (Interior)</B>:
<center>



</center>
Let's start with the internal fans. As you can see, there are six total. The locations are the back, the front, the top and the one in the center of the side window (not shown in these pics). It would have been nice if the top and window fans were LED fans standard, but they are not. I guess you can't have everything.
<center>

</center>
The standard PSU is a 400 Watt iCute power supply (by standard, I mean what it was sent with, it actually is extra in the cost). It isn't the worst power supply in the world, but it is not an Antec or Enlight. Regardless, it works fine for me using my 2.4C P4 system. Speaking of iCute, this case is actually one of theirs that is modified (<a href="http://www.casepower.com.tw/eng/html/index_product/0301.htm">Here</a&gt

, but that's what Xoxide does, modify cases.
<center>


</center>
The case has a total of 4 optical drive bays and a total of 5 hard drive only bays + 2 floppy/hard drive bays for a total of 7 hard drive bays! I don't know how you even use all these bays, the most I've seen used recently was 2 hard drives and 4 optical drives (for some reason...) If you're doing advanced RAID or you need a bunch of storage space, this case won't be a problem.
<B>The final product</B>:
<center>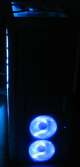 </center>
The case came out absolutely great. I fitted it with a blue and a UV cathode as well as my basic hardware setup of my 2.4C P4 with some Corsair Ram and a Gigabyte motherboard and a Leadtek graphics card (all reviewed here actually). Now, when I turned it on, I was afraid to here a loud rush of air, but to my surprise, it wasn't bad at all. Don't get me wrong, it won't win any silent PC awards, but it is tolerable. I would say it is slightly louder than a generic case.
<B>Conclusion</B>:
<a href="http://www.xoxide.com/xoxideturbine.html">For a mere $80, you can pick up this case.</a> You will have to furnish other things like the PSU, but at this price, I think it is worth it. Go to any computer store and see the more expensive cases they have and then make your decision. I don't think you'll be sad going with this one. My hats off to Xoxide once again for their great work.
I'd like to thank Jeff over at <a href="http://www.xoxide.com">Xoxide</a> for sending this case for review. And be sure to look for more stuff coming soon. And! Be sure to hit up the <a href="/forums/">forums</a>.